Short distances throughout Germany
Our central warehouse in Mönchengladbach near the Dutch border stocks many products in large quantities. Our other warehouses in Bingen, Oberstdorf and Berlin ensure short distances throughout Germany.
The most diverse circumstances repeatedly require the delivery of accessories and consumables in large quantities, even without advance notice. Due to our extensive warehousing, we are able to ship many items immediately and thus help to avoid bottlenecks.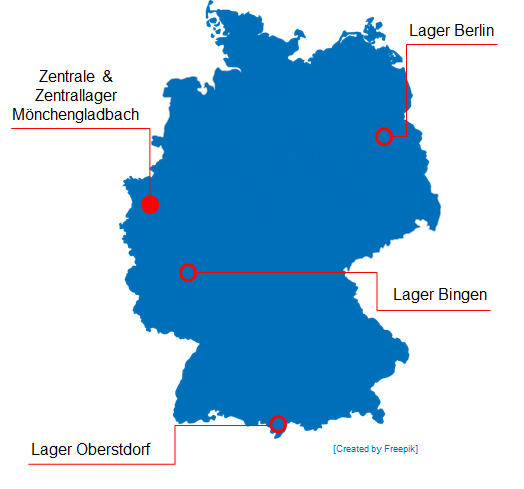 Special storages facilities for civil protection (e.g. veterinary offices)
Emergency call service for special operations
Short delivery times through extensive stocking, dynamic warehousing and route-optimised picking
Cost center delivery – because the shortest distance between two points is a straight line.
Capacities – approx. 3,000 m² of space-saving organized storage area and over 16,000 packages delivered per year
High availability – over 10,000 different items in stock