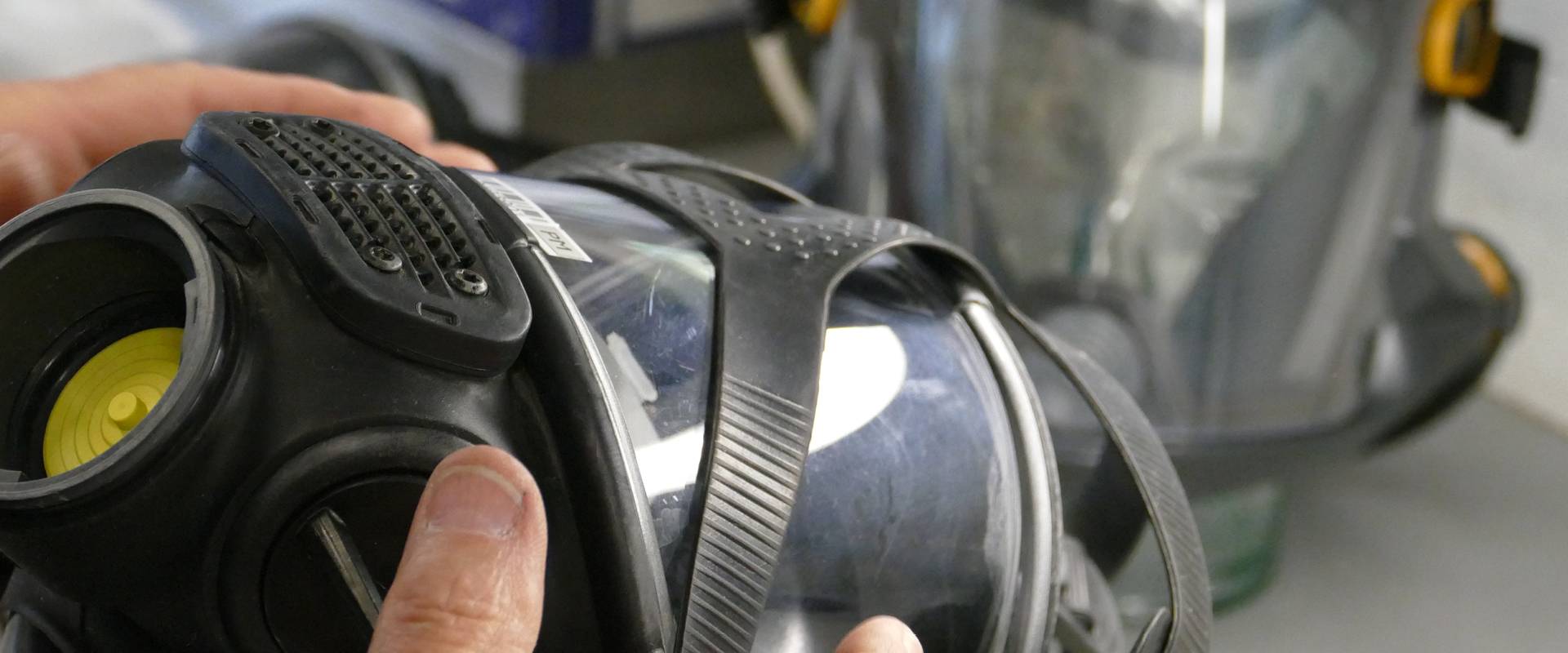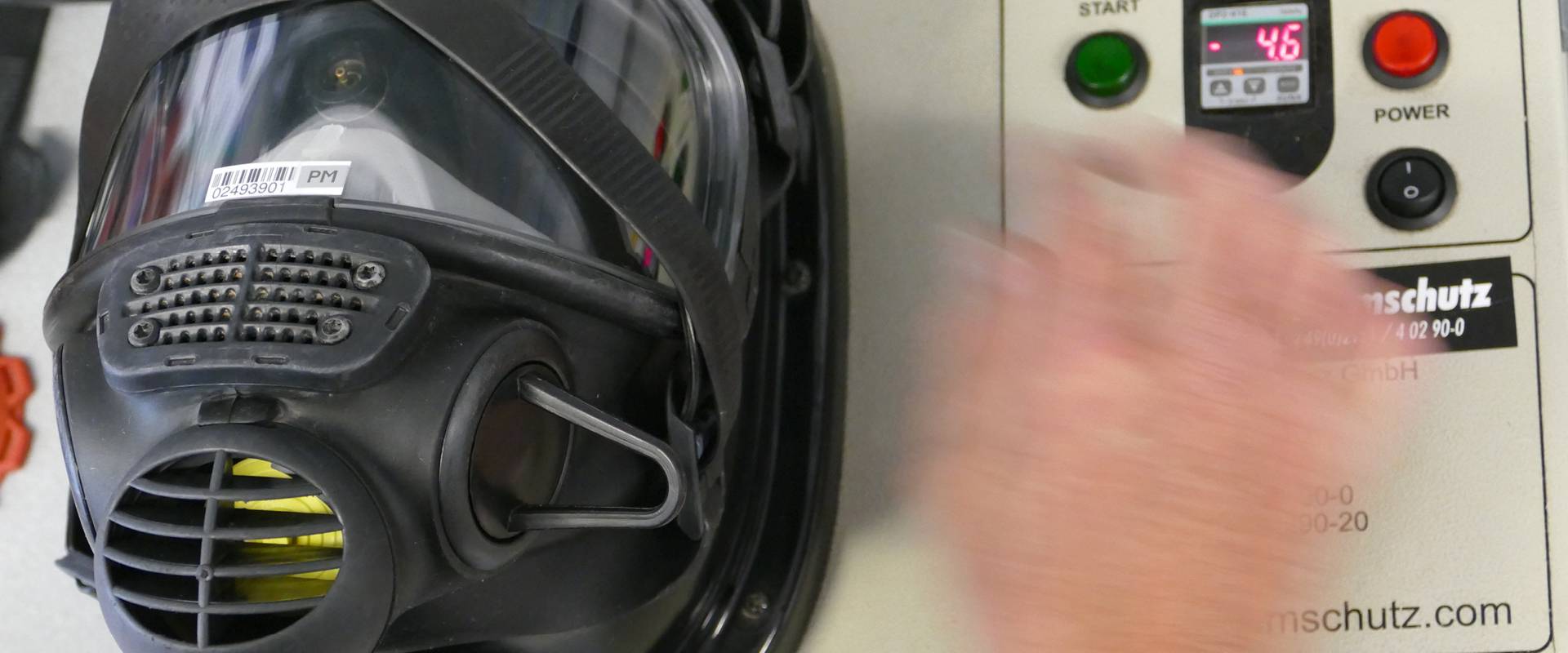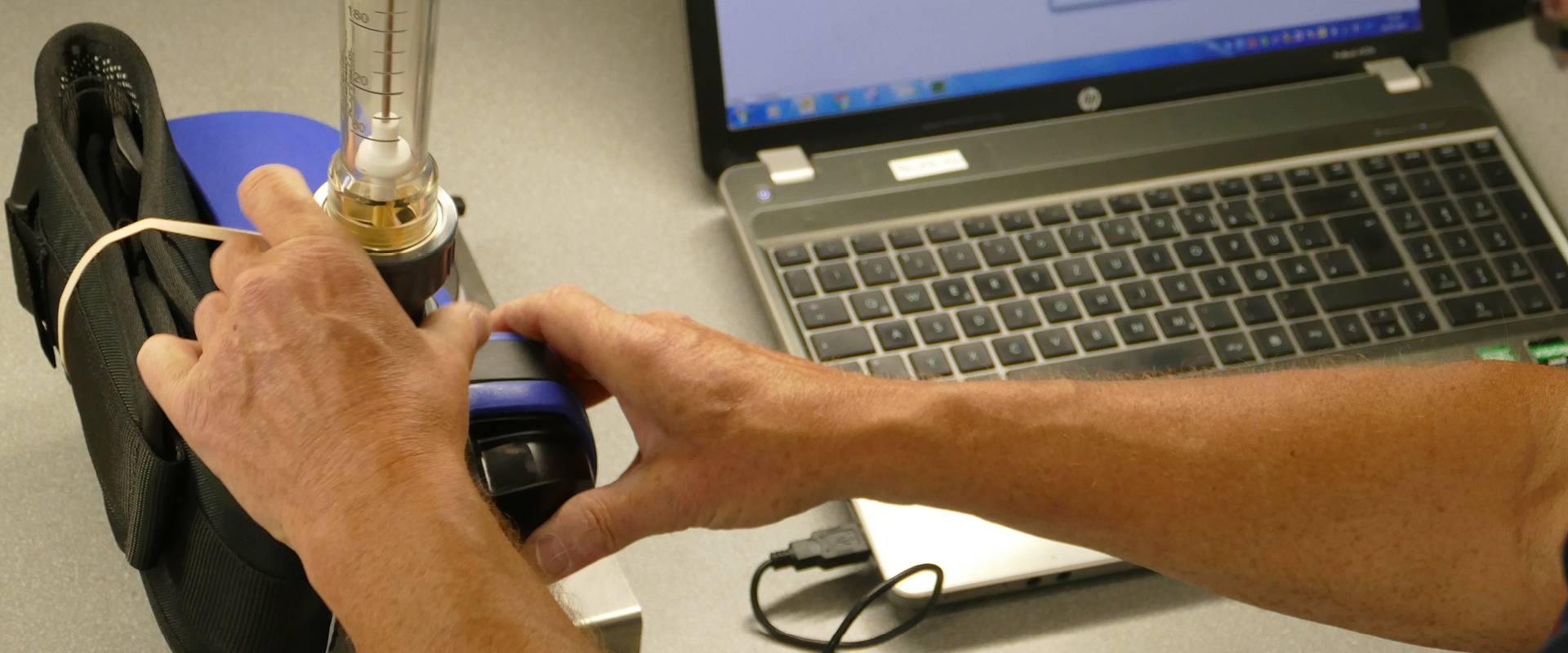 Slide 1
Trust our trained equipment maintainers to service/repair your respiratory protection systems. This protects you from breakdowns and ensures that you have a functional and safe system in use at all times.
Optimal security
from a single source
Slide 1
The utmost care is essential for the safety of users and for reliable operation of the equipment. In our service workshop, we have high-quality stationary test equipment and test systems that ensure secure testing of the complete system.
Slide 1
We have trained specialist personnel and the corresponding authorizations to ensure lasting safety and reliability of the technology. Whether recurring inspections of respiratory protection devices or their repair – we are there for you.
With safety
a strong partner
Overview of the PM Service
The utmost care is essential for the safety of users and for reliable operation of the equipment. As a manufacturer-independent provider, we therefore not only find the optimal product solutions tailored to your needs, but also stand by your side as a competent partner for product maintenance and repairs, ensuring that your products function perfectly at all times.
Authorized and certified service partner
Maintenance and repair work may only be carried out by service centers authorized and certified by the manufacturer. The certificates are only valid for associated employees of the authorized companies NOT for individuals. Employees must be trained regularly. Only original spare parts may be used. Non-compliance will affect the validity of the product certification and thus the warranty and liability of the manufacturer in case of accidents at work and inspections. Non-compliance or performance of maintenance by non-certified persons will void the manufacturer's warranty.
Through regular maintenance and periodic repairs ...
Maintenance of powered air-purifying respirators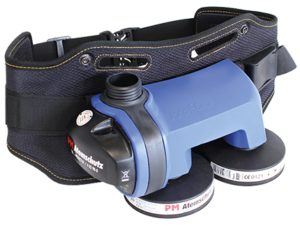 Maintenance of head pieces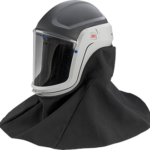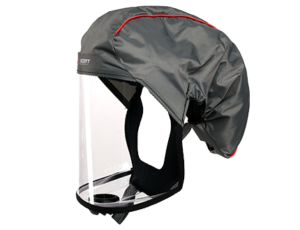 Maintenance of breathing air hoses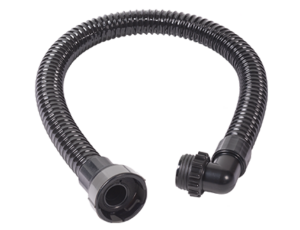 Maintenance of Compressed Air Control Valves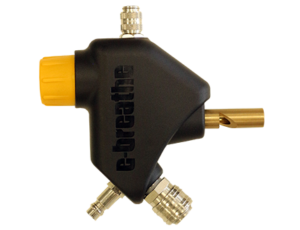 Maintennce of Compressed Air Filter Stations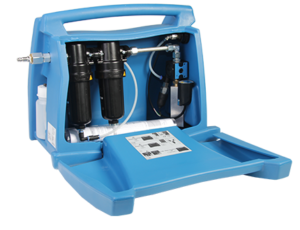 Maintenance of Compressed Air Hoses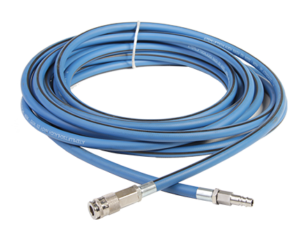 Maintenance of Fresh Air Hose Devices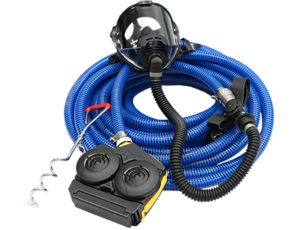 Maintenance of Full Face Masks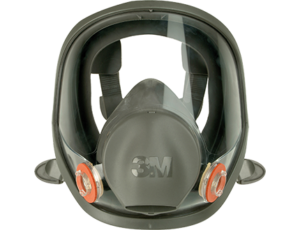 Maintenance of Half Masks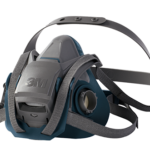 Maintenance of Emergency Escape Equipment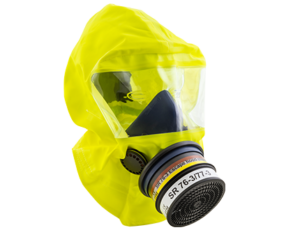 Maintenance of Gas Measuring Instruments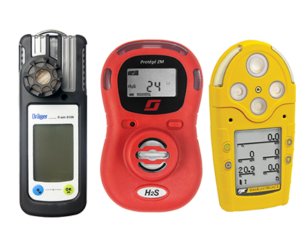 Maintenance of Chemical Suits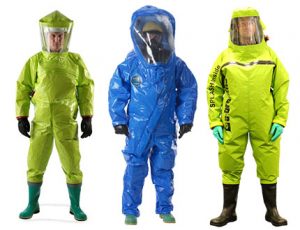 Maintenance of Self-Rescuers & CA Breathers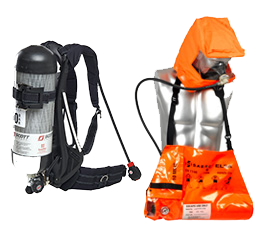 This is how simple the PM inspection service works!
1. SERVICE ACCOMPANYING BILL
Please fill out our service request form so that we have all the important information and data directly at our disposal and can process your request as quickly as possible.
4. ORDER CONFIRMATION / RELEASE
Please return your order release as soon as possible to ensure a quick processing of your order.
2. SHIPPING OF THE EQUIPMENT
Please pack the respiratory protection system(s) to be serviced (blower, battery, belt, charging tray, hose, headpiece) in a cardboard box or, if available, in our reusable PM Service Box and enclose the completed Service Accompanying Sheet with the package.
After you have sent us your order approval, your order will be handed over directly to our competent and experienced service staff.
3. ORDER ENTRY & COST ESTIMATE
Once we receive your shipment, our service team will review and record your order and send you a quote or confirmation for review.
6. RETURN OF THE EQUIPMENT & INVOICING
Your equipment will be returned as quickly as possible. You will receive the complete test documentation from us, including the test report, as well as a new service receipt for your next maintenance.
(Optional: If required, we will send you new consumables directly. Please just inform us in advance).
DETAILS OF OUR MAINTENANCE OFFER
Slide
Details about our blower maintenance

Our service personnel are trained respiratory protection technicians and are repeatedly trained and instructed on every technical renewal on the device, so that they are constantly up to date on the latest technology and the associated repairs.
The blowers sent in by you or visited by us at your site are carefully inspected by our service staff, checked for the smallest defects and necessary spare parts are conscientiously replaced.
Using an exact computer analysis, a respiratory protection blower is checked for absolute functionality. The software developed for this purpose evaluates all data of the connected device and indicates possible error messages.
The service technician must check these and then decide which spare parts are required for the corresponding repair.
You will receive a cost estimate from us, which you can use to decide whether the device should be repaired or disposed of. After your approval, the necessary repair measures will be carried out and you will receive the faultless respiratory protection blower back together with a documented maintenance report.
We will automatically notify you of the next maintenance date, so you don't have to worry about which device is due for the next maintenance and when. We take over the complete schedule control for you.
Slide
The tightness of your full-face respirators is checked in our company with the help of the PM-Tester USB RFID, which was specially developed for this process.
The reliable leak test system tests in one process whether the full-face masks to be tested still meet your safety requirements and protect you 100%.
If the test fails after repeated times, our service technician will inspect the mask closely to find out which spare part needs to be replaced to ensure a reliable seal. You will then receive an estimate of the cost of the repair, which will be carried out only after your approval.
After repair, the mask is cleaned, disinfected, shrink-wrapped and returned to you as quickly as possible with a maintenance report.
Slide
The company PM Atemschutz offers you the possibility to service your chemical and/or fire escape hoods of the manufacturer Sundström.
For the SR 77 fire escape hoods with or without bag, a complete service kit is exchanged when maintenance is due. This consists of the filter change of the ABEK1-Co-P3 filter, the replacement and welding in a new aluminum bag as well as the exchange of the filter ring, the visor protection, the anti-fog cloth, the labels and the instructions for use.
This consists of the filter change of the ABEK1-Co-P3 filter, the replacement and sealing in a new aluminum bag as well as the exchange of the filter ring, the visor protection, the anti-fog cloth, the labels as well as the instructions for use.
Slide
PM Atemschutz GmbH offers a wide variety of gas detection devices from BW Technologies and Scott Safety. Here you will find the right warning device for almost every gas and every hazardous workplace to inform you in time about high concentrations of hazardous gases and vapors
For gas measuring instruments, our service ranges from calibration, inspection and cleaning to sensor replacement. A distinction must be made here between calibration procedures of:
1-Gas meters
2-4-gas meters and
5-gas meters
The calibrations can be performed at your site or in our workshop. After each successful calibration, you will receive a configuration certificate and a calibration certificate as proof.
If your device should ever be defective, we naturally offer you the possibility of checking the device and repairing it as far as possible. If we do not have the technical equipment to repair the device, we will send it to the manufacturer for you. After receiving a cost estimate, you have the option to decide whether the repair should be carried out or not.
Of course, the devices are covered by the statutory warranty of 24 months. For the sensors, the warranty period may vary depending on the design. This is to be inquired in advance with us.
Slide
Self-rescuer and Compressed air breathing apparatus
Self-Rescuer
We undertake the testing of your self-rescuers such as Elsa-Dash at your request or at the regular maintenance interval. A distinction is made between functional testing with and without cleaning and disinfection after use.
In addition, general maintenance intervals are specified by the manufacturers and must be observed. These would be:
1-year service
Inspection plus spare parts required according to manufacturer's instructions (1 x sinter filter)
3-year service
Inspection plus spare parts required according to manufacturer's instructions (1 x O-ring, 1 x sintered filter)
6-year major overhaul
Verification plus spare parts required according to the manufacturer depending on the device version (with bag or vest, Elsa Sprint with full face mask or hood).
Compressed air breathing apparatus
The inspection of compressed air breathing apparatus also ranges from a pure functional check, including a check of the regulator, to cleaning and disinfection after use, to a 1-year and 6-year general overhaul, during which spare parts must also be replaced in accordance with the manufacturer's instructions.
Slide
According to §15 (7) of the Ordinance on Industrial Safety and Health, respiratory protective devices must be inspected by the TÜV every 5 years and may therefore not be used if this period is exceeded according to the inspection label.
We have the possibility to submit your breathing air cylinders (up to 10l or CFRP cylinders) for TÜV testing. All you have to do is to send us your emptied breathing air cylinders free of charge and wait for the return.
Filling of breathing air cylinders (up to 4l or up to 10l capacity)
The new filling with breathing air according to DIN EN 12021 after the TÜV test or the general filling should your bottle be used and become empty we can of course also take over for you.
Prices for TÜV testing, filling and transport of filled breathing air cylinders are of course available on request.
YOU HAVE QUESTIONS ABOUT OUR SERVICE AND MAINTENANCE OFFER? CONTACT US:
Our business hours:
Mo. – Th.  08.00 – 16.30 Uhr
Fr.            08.00 – 14.30 Uhr
PM Atemschutz GmbH
Im Abtsfeld 6
41066 Mönchengladbach
Deutschland